EFT is a well-known humanistic approach to psychotherapy formulated in the 1980's and developed in tandem with the science of adult attachment, a profound developmental theory of personality and intimate relationships.  This science has expanded our understanding of individual dysfunction and health as well as the nature of love relationships and family bonds.  Attachment views human beings as innately relational, social and wired for intimate bonding with others.  The EFT model prioritizes emotion and emotional regulation as the key organizing agents in individual experience and key relationship interactions.
EFT is best known as a cutting edge, tested and proven couple intervention, but it is also used to address individual depression, anxiety and post traumatic stress (EFIT – Emotionally Focused Individual Therapy) and to repair family bonds (EFFT – Emotionally Focused Family Therapy).  This model operationalizes the principles of attachment science using non-pathologizing experiential (paralleling Carl Rogers) and relational systems techniques (paralleling Salvador Minuchin) to focus on and change core organizing factors in both the self and key relationships.
Most EFT research to date has focused on outcome and process of change studies with couples, and EFT for couples is the gold standard for empirically validated intervention in this field.  Future research will focus on EFIT and EFFT.  EFT has also generated many relationship education programs, for example Hold Me Tight:  Conversations for Connection and its online version www.holdmetightonline.com, and Healing Hearts Together for couples dealing with cardiac dysfunction.
The popular basic 4-day Externship in EFT, taught in over 40 countries by ICEEFT certified trainers, is centered on working with individuals and dyads in distressed relationships and addressing dysfunctional patterns of emotion regulation and ways of engaging with one another that undermine secure bonding interactions, but it also outlines change techniques as used in EFIT sessions.  Participants learn to use the macro-intervention sequence, the EFT Tango, across the three modalities of therapy.  The path to competence in EFT and many learning resources are laid out below.
Please click to see some EFT Publications:
For further information about EFT, please click here.
Strengths of Emotionally Focused Therapy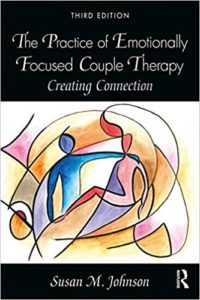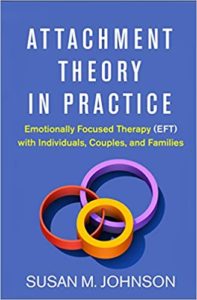 EFT is based on clear, explicit research-based conceptualizations of individual growth, health and dysfunction and of relationship distress and adult love.
EFT is collaborative and respectful of clients, combining experiential Rogerian techniques with structural systemic interventions.
Change strategies and interventions are specified.
Key moves and moments in the change process have been mapped into three stages of therapy and key change events that predict success at the end of therapy.
EFT has been validated by over 30 years of empirical research. There is also research on the change processes and predictors of success.
EFT has been applied to many different kinds of problems and populations.
The Goals of EFT – across 3 modalities of therapy
To order and re-organize key emotional responses – the music of the interactional dance with others.
To expand both the clients' core sense of self and how they respond to others in the dance of attachment.
To foster emotional balance and coherence, a sense of competence and worth and the open, responsive engagement with others that shapes secure bonds – bonds that create resilience and agency.
An Example of the Change Process
In a therapy session, a husband's numb withdrawal expands into a sense of helplessness, a feeling of being intimidated. He begins to assert his need for respect and, in doing so, becomes more accessible to his wife. He moves from "There is no point in talking to you. I don't want to fight." to "I do want to be close. I want you to give me a chance. Stop poking me and let me learn to be there for you." His wife's critical anger then expands into fear and sadness. She can now ask for and elicit comfort. She moves from "You just don't care. You don't get it." to "It is so difficult to say – but I need you to hold me – reassure me – can you?"
New cycles of bonding interactions occur and replace negative cycles such as pursue-withdraw or criticize-defend. These positive cycles then become self-reinforcing and create permanent change. The relationship becomes a safe haven and a healing environment for both partners.
In individual therapy – an EFIT session – Jackie moves from dismissing her debilitating sense of danger and helplessness, exacerbated by her reluctance to turn to others for support, to gradually being able to engage with her own sense of failure and unworthiness.  She faces her fear that if she "feels" then she will "go crazy".  We discover that she is on a "wheel" of denial and control that only leaves her more alone and overwhelmed.  She assembles her pain around her childhood abuse and links her negative, "always whining" sense of self to her mother's neglect and hostility.  As she finds her emotional balance, she is able to close her eyes and emotionally engage in an imaginary dialogue with her mother, telling her, "If I was real and feeling with you, I knew I would lose forever the few crumbs of comfort you did give.  I couldn't do it.  But you left me dying and alone.  Now, I still hurt and my pain needs to be said – it needs to matter."  She is then able to connect with the adult survivor part of herself who decided to come to therapy and can reassure the fragile terrified part of Jackie.  This kind of corrective emotional experience expands her sense of self and her ability to engage with others in close relationships.  We also focus on making positive memories of her grandmother live in session and using this experience to support her continued growth beyond the trauma of her childhood and the survival strategies that keep her trapped in flashbacks and depression.
For a summary article describing EFT – as published in Social Work Today, May/June 2009 – CLICK HERE