A very different kind of book about connection by Sue Johnson:
Edgar & Elouise, Sagas 1 & 2: For 9 to 90 year olds!
Set in Canada's west coast, Edgar & Elouise reflects not only the beauty and frailty of the natural world around us, but also how hard it is for different creatures to come together to protect it. Faced with what can seem like overwhelming challenges, we learn how we can positively shape ourselves and our connection with others, and how a small band of brave ones can, together, make a magical difference. These wise and charming tales, exquisitely illustrated in watercolor, charcoal, and ink by West Coast artist Peter Loebel, will linger long afterward with you and your loved ones.

---
A Primer for Emotionally Focused Individual Therapy (EFIT): Cultivating Fitness and Growth in Every Client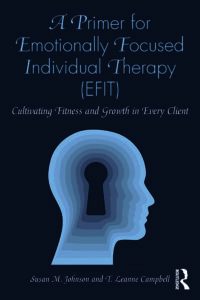 This essential text from the leading authority on Emotionally Focused Therapy, Susan M. Johnson, and colleague, Leanne Campbell, applies the key interventions of EFT to work with individuals, providing an overview and clinical guide to treating clients with depression, anxiety, and traumatic stress.
Designed for therapists at all levels of expertise, Johnson and Campbell focus on introducing clinicians to EFIT interventions, techniques, and change processes in a highly accessible and practical format. The book begins by summarizing attachment theory and science – the theoretical basis of this model – together with the experiential approach to change in psychotherapy. Chapters describe the three stages of EFIT, macro-interventions, such as the EFIT Tango, and various micro-interventions through clinical exercises, case studies, and transcripts to demonstrate this model in practice with individuals, highlighting the unique benefits of EFT as a cross-modality approach for treating emotional disorders. With exercises interwoven throughout the text, this book is built to accompany in-person and online training, helping the practicing clinician offer targeted and empirically tested interventions that not only alleviate symptoms of distress but expand the client's emotional balance, agency, and sense of self.
As the next major extension of the EFT approach, this book will appeal to therapists already working with couples and families as well as those just beginning their professional journey. Psychotherapists, psychologists, counselors, social workers, and mental health workers will also find this book invaluable.
A free sample chapter is available here.

---
Attachment Theory in Practice: Emotionally Focused Therapy (EFT) with Individuals, Couples, and Families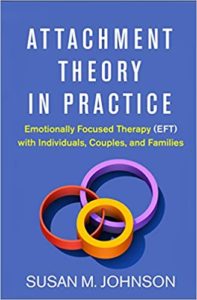 From the bestselling author of Hold Me Tight — a revolutionary understanding of why and how we love, based on cutting-edge research.
Drawing on cutting-edge research on adult attachment–and providing an innovative roadmap for clinical practice–Susan M. Johnson argues that psychotherapy is most effective when it focuses on the healing power of emotional connection. The primary developer of emotionally focused therapy (EFT) for couples, Johnson now extends her attachment-based approach to individuals and families. The volume shows how EFT aligns perfectly with attachment theory as it provides proven techniques for treating anxiety, depression, and relationship problems. Each modality (individual, couple, and family therapy) is covered in paired chapters that respectively introduce key concepts and present an in-depth case example. Special features include instructive end-of-chapter exercises and reflection questions.
A Special Offer from Guilford Press: Save 25% and free shipping (This book is available as a print or e-book) Please use promo code ZFEFT

---
The Practice of Emotionally Focused Therapy: Creating Connection (3rd Edition)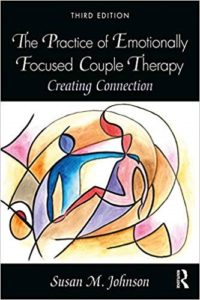 Since its original publication in 1996, The Practice of Emotionally Focused Couple Therapy has been the definitive guide for couple therapists, supervisors, and students wishing to practice emotionally focused therapy.
This cutting-edge third edition addresses recent changes in the field of couple therapy, including updated research results relating to clinical interventions, expanded understandings of emotion regulation, adult attachment and neuroscience, and dynamic EFT applications for a range of issues such as depression, anxiety, sexual disorders, and PTSD. Chapters introduce micro-interventions for use in EFT couple sessions, as well as a systematic presentation of a macro set of interventions called the EFT Tango. Clinical examples are included throughout, bringing the in-session process of change alive, and two case chapters offer in-depth commentaries of Stage 1 and Stage 2 EFT sessions.
Written by the leading authority on emotionally focused therapy, this third edition is an essential reference on all aspects of EFT and its uses for mental health professionals in the field of couple and marital therapy.

---
Emotionally Focused Family Therapy: Restoring Connection and Promoting Resilience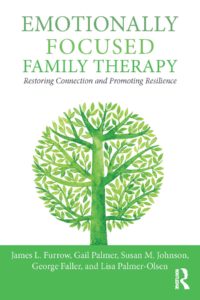 Emotionally Focused Family Therapy is the definitive manual for applying the effectiveness of Emotionally Focused Therapy (EFT) to the complexities of family life. The book sets out a theoretical framework for mental health professionals to enhance their conceptualization of family dynamics, considering a broad range of presenting problems and family groups. The first section applies EFT theory and principles to the practice of family therapy. The second section explicates the process of EFT and examines the interventions associated with EFFT, the EFT approach to families. In the final section, the authors provide case examples of EFFT practice, with chapters on traumatic loss, stepfamilies, externalizing disorders, and internalizing disorders.
Integrating up-to-date research with clinical transcripts and case examples throughout, Emotionally Focused Family Therapy is a must-read for therapists looking to promote the development and renewal of family relationships using the principles of EFT.

---
Becoming an Emotionally Focused Couple Therapist (2nd Edition)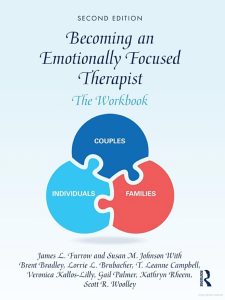 An invaluable tool for clinicians and students, Becoming an Emotionally Focused Therapist: The Workbook takes the reader on an adventure – the quest to become a competent, confident, and passionate couple and family therapist. In an accessible resource for training and supervision, seven expert therapists lead the reader through the nine essential steps of EFT with explicit intervention strategies. Suitable as a companion volume to The Practice of Emotionally Focused Couple Therapy, 2nd Ed. or as a stand-alone learning tool, the workbook provides an easy road-map to mastering the art of EFT with exercises, review sheets and practice models. Unprecedented in its novel and interactive approach, this is a must-have for all therapists searching for lasting and efficient results in couple therapy.
Read editor reviews, customer reviews, and see product details at Amazon.

---
The Emotionally Focused Casebook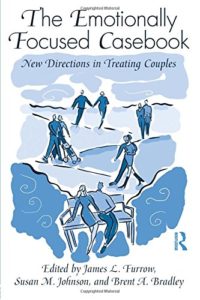 There is currently no single resource that compiles the various applications to the many clinical populations being served by Emotionally Focused Therapy today. The Emotionally Focused Casebook fills that void as a substantive reference for clinicians, students, professors, and supervisors using and teaching EFT. Each chapter utilizes a hands-on case study approach with concrete guidelines and illustrations for the adaptation and application of EFT with specific treatment populations. This Casebook is the perfect practical resource for professionals and students looking for examples of specific theoretical, conceptual, and treatment applications of EFT.
Read editor reviews, customer reviews, and see product details at Amazon.

---
The Hold Me Tight Workbook
Dr. Sue Johnson's landmark book Hold Me Tight has helped more than 1 million readers strengthen and repair their romantic relationships. Now, finally, comes a companion workbook designed to help couples open up, reestablish safe emotional connection, and renew their bond.
Drawing on the latest developments in Emotionally Focused Therapy, a field pioneered by Dr. Johnson, The Hold Me Tight Workbook is packed with sage wisdom and science-backed advice, as well as compelling conversation prompts, exercises, activities, and resources to help couples work through conflict and achieve greater levels of intimacy. Whether you're celebrating your 50th anniversary or your first, The Hold Me Tight Workbook is an invaluable guide to cultivating a deeper connection — and more fulfilling relationship — with the person you love most.

---
Hold Me Tight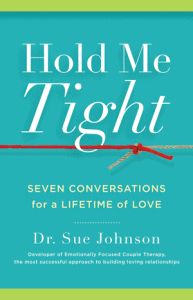 This book offers a revolutionary new way to see and shape love relationships. The stories, new ideas and exercises offered in Hold Me Tight are based on the new science of love and the wisdom of Emotionally Focused Couple Therapy (EFT), an effective new model developed by Dr. Johnson.
EFT is a short-term, structured approach to marital and couples therapy. Empirical research has supported the effectiveness of EFT, showing that 70-75% of couples move from distress to recovery and about 90% show significant improvements (the best results of any couple therapy) and evidence shows that these positive effects last over time. Currently EFT is being used with diverse couples from various cultures around the world in private practice, university training centers and hospital clinics.
Read editor reviews, customer reviews, and see product details at Amazon.

---
Love Sense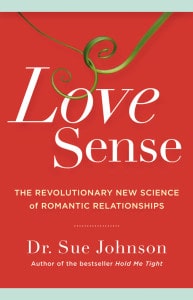 From the bestselling author of Hold Me Tight — a revolutionary understanding of why and how we love, based on cutting-edge research.
Love is not the least bit illogical or random, but actually an ordered and wise recipe for survival. The need for connection is our first and most primary instinct. Drawing on groundbreaking research, LOVE SENSE reveals that romantic love is an attachment bond, just like that between mother and child; emotional interaction with partner buffers us from stress and makes us stronger in the face of life's challenges; touch and intimacy spurs the growth of mirror neurons, which help us "read" and respond to our partners; and a good relationship is the best recipe for happiness and good health and a powerful antidote to aging. Dr. Sue Johnson, creator of the remarkably successful Emotionally Focused Couple Therapy, explains how to develop "love sense"—the ability to build long-lasting relationships.
LOVE SENSE opens the door to the revolutionary new science of emotional bonding. It empowers you with the confidence and tools to craft make-or-break moments and weather the key stages in your relationships. Dr. Johnson outlines the three basic strategies for handling your attachment needs and fears, and offers fresh insight into the link between sex and emotional bonding. Learning how to enhance or repair the bond with your partner no longer has to be a matter of guesswork. Told in Dr. Johnson's reassuring voice, LOVE SENSE presents practical, accessible advice on building more intimacy, safety, and trust; coping with separation distress, loss, and forgiveness; and strengthening your safe-haven relationship to ensure a lifetime of love. It will change the way you think about love.
Read editor reviews, customer reviews, and see product details at Amazon.

---
Created for Connection: The "Hold Me Tight" Guide for Christian Couples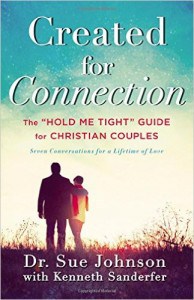 Whoever does not love does not know God, because God is love.–1 John 4:8 Are you looking to enrich a healthy relationship, revitalize a tired one, or rescue one gone awry? Do you yearn to grow closer to God, and to further incorporate Him and His teachings into your marriage? We all want a lifetime of love, support, and faith. But sometimes we need a little help. Enter Dr. Sue Johnson, developer or Emotionally Focused Therapy (EFT) and the best couple therapist in the world, according to bestselling relationship expert Dr. John Gottman. In CREATED FOR CONNECTION, Dr. Johnson and Kenneth Sanderfer, a leading EFT practitioner in the Christian community, share Johnson's groundbreaking and remarkably successful program for creating stronger, more secure relationships not only between partners, but between us and God. The message of CREATED FOR CONNECTION is simple: Forget about learning how to argue better, analyzing your early childhood, or making grand romantic gestures. Instead, get to the emotional underpinnings of your relationship by recognizing that you are attached to and dependent on your partner in much the same way that a child is on a parent, and we are on the Heavenly Father, for nurturing, soothing and protection. The way to enhance or save our relationships with each other and with God is to be open, attuned, responsive, and to re-establish safe emotional connections. Filled with Bible verses, inspiring real-life stories, and guidance, CREATED FOR CONNECTION will ensure a lifetime of love.
Read editor reviews, customer reviews, and see product details at Amazon.

---
Emotionally Focused Couple Therapy with Trauma Survivors: Strengthening Attachment Bonds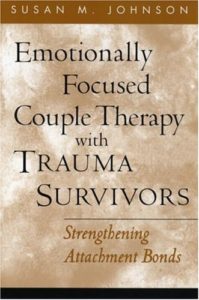 From the bestselling author of Hold Me Tight — a revolutionary understanding of why and how we love, based on cutting-edge research.
This book provides a theoretical framework and an innovative model of intervention for distressed couples whose relationships are affected by the echoes of trauma. Combining attachment theory, trauma research, and emotionally focused therapeutic techniques, Susan M. Johnson guides the clinician in modifying the interactional patterns that maintain traumatic stress and fostering positive, healing relationships among survivors and their partners. In-depth case material brings to life the process of assessment and treatment with couples coping with the impact of different kinds of trauma, including childhood abuse, serious illness, and combat experiences. The concluding chapter features valuable advice on therapist self-care.
Read editor reviews, customer reviews, and see product details at Amazon.

---
Attachment Processes in Couple and Family Therapy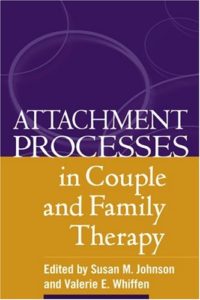 From the bestselling author of Hold Me Tight — a revolutionary understanding of why and how we love, based on cutting-edge research.
This practical book presents cutting-edge approaches to couple and family therapy that use attachment theory as the basis for new clinical understandings. Fresh and provocative insights are provided on the nature of interactions between adult partners and among parents and children, the role of attachment in distressed and satisfying relationships, and the ways attachment-oriented interventions can address individual problems as well as marital conflict and difficult family transitions. With contributions from leading clinicians and researchers, the volume offers both general strategies and specific techniques for helping clients build stronger, more supportive relational bonds.
Read editor reviews, customer reviews, and see product details at Amazon.

---