Hold Me Tight online is a couples therapy program based on 30 years of positive research results on relationship repair and hundreds of studies on love and adult bonding. Built on the bestselling book Hold Me Tight and the hugely successful Hold Me Tight ® workshops attended by thousands of couples around the world, this program is easy and fun, and personally crafted with quizzes, reminders, cartoons and clips of real couples as they fall in love again & again & again.
Visit the program to find out more about what Hold Me Tight Online can offer. The way home to a deeper connection starts right here!
Hold Me Tight® is a registered trademark of Sue Johnson.
---


This Attachment Injury Repair Training Program designed by Lillian Buchanan and Lorrie Brubacher gives you an opportunity to observe and then personally interact with the interventions and 8 steps of the Emotionally Focused Therapy (EFT) Attachment Injury Repair Model (AIRM) developed by Johnson, Makinen & Millikin (2001). The interactive training program is built on this model and gives you an opportunity to identify and practice the markers of readiness for this repair process, and the steps and interventions through the entire process. Brief video clips illustrate the moment to moment process through each step of the model. Between each clip are descriptions of the therapist's intentions in each step of the model. You are given opportunities to identify the interventions used, after which you receive immediate feedback about the intervention the therapist was using. A variety of modalities of learning experiences are interspersed throughout.
For more information and to order please go to EFT AIRM Training Program
CE Hours available for purchase after obtaining program
---

Emotionally Focused Therapy Step by Step: a complete online course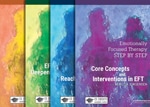 Consider this 4-volume series your own personal master class in EFT. Embark on a journey with 6 real couples that underwent couples therapy for over 1 year with 4 leading EFT therapists and trainers. Learn the steps and techniques of EFT at your own pace, via carefully selected vignettes from our couples sessions, supplemented with expert commentary, ensuring that all relevant clinical points are thoroughly demonstrated and explained. Additional self-paced exercises will help you solidify the skills covered in each volume.
By the end of this course, you will have learned a model that will provide structure to your couples sessions and will have acquired proven tools for making you a more effective couples therapist.
For more information and to register please go to Psychotherapy.net Academy
11 hour online course and comes with 10 CE credits