Benefits of Supervisor Certification:
Recognition by ICEEFT of supervisory status
Eligible to be designated as an EFT Supervisor on the ICEEFT Directory, upon completion of requirements and membership in ICEEFT, and on the ICEEFT.com web site for referrals by the Institute and agencies in your area
Ability to supervise other therapists who are working on becoming a Certified EFT therapist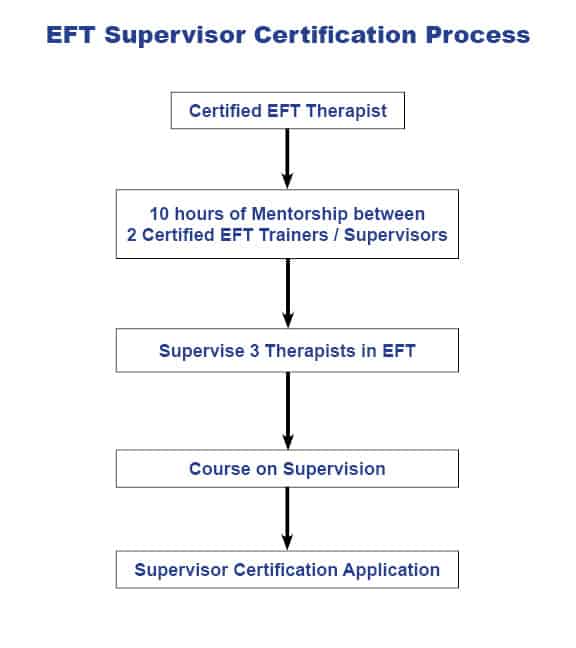 Requirements:
Certification as an EFT Therapist for one year  (exceptions may be made for experienced supervisors or area need)
10 hours of mentorship between 2 Certified EFT Supervisors / Trainers
Completion of a course on supervision for counselling / psychotherapy.  If not available in your area, options can be discussed with an ICEEFT representative
Four years of clinical experience with couples / families
Supervision of a minimum of three trainee Therapists in EFT
Submission of a written description of your experience in supervision:a) how many people you have supervised; b) number of cases you have supervised; c) a written description (approximately 1000 words) of how you believe your supervision fits with EFT principles of supervision (give specific examples to support this perspective)
Submission of two one-half hour recordings demonstrating supervision of two different therapists.  These recordings need to be of individual supervision (which could involve 2 therapists) and not group supervision or voice over supervision recordings.  One of the tapes submitted needs to include supervisor and therapist review of taped session material
Submission of two reference letters from mentors of supervision
Application Procedure
Fee for review and administration is $600.00.  Payable by Visa/Matercard, please download form or by Cheque.
Anyone planning to apply to be a Certified EFT Supervisor, must complete and send the linked form along with submission of the fee to ICEEFT as a prelude to beginning to supervise therapists – as a supervisor-in-training and understands that this process and supervisor-in-training period needs to be complete within two years.
The Key Principles of EFT Clinical Supervision are:
A positive working alliance between the supervisor and supervisee is fostered because safety enhances learning.
Modeling is available: the supervisor actively demonstrates EFT interventions (e.g., demonstrates attachment language and non-verbal behaviours of EFT).
Observation of therapy sessions occurs or transcripts are examined. Role plays with feedback give opportunity for rehearsal.
Feedback to supervisee is clear, focused, supportive, and congruent with supervisee's stage of learning.
Specific elements are pointed out for the supervisee to improve or work on.
Written theory and techniques of the EFT model are referred to and taught in relation to practice (e.g., steps, stages, interventions, experential and non-pathologizing approach).These principles were formulated with the help of Lisa Palmer-Olsen and the work of Dr. Eugene Mead.